Texturizing Services
Keratin Treatment : $250-450
Keratin treatment is a hair smoothing treatment that removes fizziness and leaves the hair smooth and sleek for several weeks. Please note that shampoo is performed at the beginning of this service. Guest may be advised to wait 48 hours to shampoo their hair after receiving a keratin treatment. Style is included in service price. Keratin treatment guest receive a special product promotion. Be sure to ask you stylist about Keratin Treatment aftercare.
Body Wave : $200-400
A soft light permanent wave used to give the hair fullness and body.
Relaxer : $85-130
Relaxers are used to straighten and make hair more manageable. This service is only recommended for women with excessive less manageable curly hair. This service includes a shampoo and conditioning scalp massage. Simple style will be performed at the end of this service.
Magic Sleek : $350-500
Magic Sleek treatments nourish, rejuvenate and transform all hair types and textures. Magic Sleek is a formaldehyde free alternative hair straightening treatment.
GK Hair
Salon Professional Use Only
GKhair is the best keratin straightening treatment that rejuvenates hair making it smooth and straight. GKhair contains a natural smoothing agent for hair density and conditioning along with NATURAL SEED EXTRACTS for keeping the strands moisturized. Infused with JUVEXIN, a keratin anti-aging protein blend THAT IS optimized for restoring hair from the inside out WHILE returning it to a more youthful state. We recommend you not to shampoo your hair for 72 hours post treatment. 100% formaldehyde free.
GKhair Treatments do not permanently change the structure of the hair. Instead, they rearrange the hair molecules to reduce the natural curl pattern. You can expect the results to last for 3-5 months depending on the home care regimen with GKhair products as well as your natural hair texture. The GKhair treatments are progressive, so, with each treatment your hair will continue to improve over time. Given the maintenance, the results of the GKhair Hair Taming system will last up to 5 months.
FEATURES
One formula which can be customized for a variety of results
No harsh chemicals
Wash hair same day
BENEFITS
Prevents breakage
Reduces styling time
Smooths and straightens hair
Keratin Smoothing Treatment FAQ
Who is the best candidate for keratin smoothing treatment?
Mostly anyone is a good candidate for the keratin smoothing treatment. It is effective on all hair types including thick, thin, dry, chemically damaged, straight, wavy and curly. This professional service will make the hair healthier as it smooths the cuticle and eliminates frizz and creates shine.
Can I still receive a keratin smoothing treatment if my hair is highlighted or colored?
Yes, the keratin smoothing treatment works great with highlighted and colored hair. It will enhance the color, eliminate frizz and make the hair look healthier overall.
Will the keratin smoothing treatment reduce my hair's volume?
No, your hair will still have volume after your keratin smoothing treatment. You will still be able to use a curling iron and/or round brush to create body and volume.
Is the keratin smoothing treatment going to make my hair straight?
It depends on what the natural texture of your hair is. For example, if your hair is wavy, the treatment will most likely allow your hair to dry straight. If your hair is curly, then it will eliminate the frizz as it enhances the definition of the natural curl. If your hair is straight, the treatment will eliminate frizz and give your hair a shiny, healthy look. Finally, the treatment will cut down drying time on all hair to 1/3 of the usual time.
How long will the keratin smoothing treatment last?
The results will vary depending on the individual's hair type and how often they wash their hair. Normal results last for up to 12 weeks but wave can return sooner although it will still be way easier to blow dry. It is also essential to use the proper support products. This treatment is cumulative so the more treatments you receive, the longer a client can go between treatments.
Can you apply the keratin smoothing treatment directly on top of other relaxers or perms?
Absolutely. The keratin smoothing treatment works great on chemically treated and damaged hair. The proteins and nutrients help to seal the cuticle and leave the hair looking healthy.
Will I be able to have my color done on the same day as my keratin smoothing treatment?
Yes, ideally you will want to do the color service the same day because the cuticle is already open. If you do have the keratin smoothing treatment and then decide to do color, you will want to wait 2 weeks before having a color service.
What steps can I take to prolong the life of my keratin smoothing treatment?
The most important thing you can do is use the appropriate aftercare product line that your salon or stylist offers. The more often you wash your hair, the less time your treatment will last so you may want to try to wash your hair around 3 times per week if possible.
Will swimming in the ocean or pool compromise my keratin smoothing treatment?
Swimming in the ocean or pool is fine, but the life of your treatment may be compromised if you swim regularly. A leave in serum or conditioner is a great product to apply before swimming to protect the hair from the elements such as chlorine and salt in the water.
How long do I need to wait to wash my hair after the keratin smoothing treatment?
There is no waiting period using the Cadiveu type and a three-day waiting period for other types.
Am I still a candidate for the keratin smoothing treatment if I am platinum blonde?
 Yes. Your stylist has been trained on how to perform a keratin smoothing treatment and has learned to turn the heat of the flat iron down to 380-400 degrees depending on the condition of your hair.
Can the keratin smoothing treatment be administered on hair extensions?
Yes. Actually, this treatment is a great solution to the common issue of hair extensions becoming excessively dry due to the lack of natural oils from the scalp. Ideally, it is easiest to perform the treatment before the extensions are put in the hair. However, if they are in the hair, it is not a problem. Extreme caution should be used around the bond or cylinder area to.
Is the keratin smoothing treatment permanent or will it grow out?
No the treatment is not permanent nor will it "grow out". The treatment gradually and evenly washes out so there is no "line of demarcation". This treatment does not change the inner structure of the hair, but rather creates a protein layer overlay on the cuticle which protects the hair. As the hair is protected for an extended time, the condition of the hair is improved.
Can the keratin smoothing treatment be performed on clients who are pregnant or breastfeeding?
Since there have not been any studies or tests on the possible effects, we recommend to air on the side of caution and not perform the service on pregnant clients. Clients should get their doctor's approval which is up to your discretion.
Body Wave Perm
Create long-lasting curls that look and feel incredibly bouncy with our body wave perm, our range of curly perm solutions formulated for all types of hair.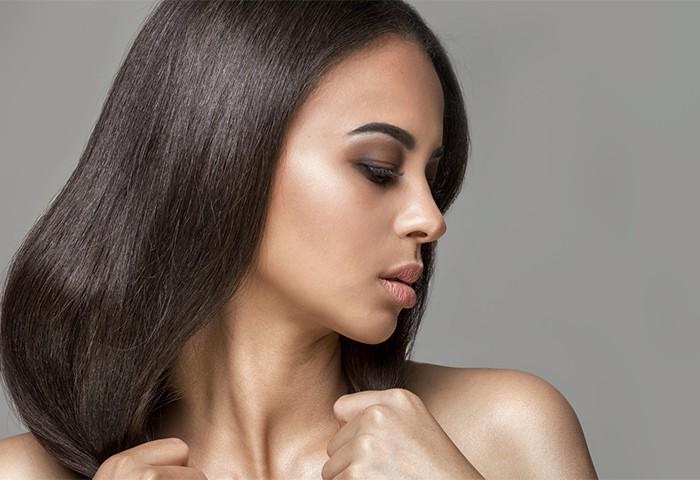 Hair Relaxer
Our permanent straightening treatment is the relaxer. This treatment ​works best on someone with tight curl patterns or someone with little to no hair ​color. To maintain the look over time, touch-ups are required every 6-8 weeks.
*Prior to receiving this service, please refrain from shampooing for 48 hours before your appointment.
BRAZILIAN BLOWOUT ORIGINAL
BRAZILIAN BLOWOUT IS THE ONLY SMOOTHING TREATMENT ASKED FOR BY NAME. Using breakthrough bonding technologies, these customizable smoothing treatments improve the condition of the hair by creating a protective protein layer around the hair shaft to eliminate frizz and smooth the cuticle.
What makes our professional smoothing treatments different?
CUSTOMIZABLE – keep and define your curls or go for a sleek and smooth look.
GREAT FOR ALL HAIR TYPES – wavy, straight, curly? If you have frizz, we have got you covered!
NO WAITING PERIOD – the minute you leave the salon you can immediately wash your hair, exercise, put it in a ponytail or clip it without having to wait days to do so.
FINISHED IN THE SALON – in 80 minutes or less you get smooth, frizz-free hair for up to 12 weeks. *
NO LINE OF DEMARCATION WITH NEW HAIR GROWTH – great for transitioning from Japanese straighteners, relaxers or keratin treatments.
FREQUENTLY ASKED QUESTIONS
WHO IS THE BEST CANDIDATE FOR THE BRAZILIAN BLOWOUT?
It has been our experience, that good candidates for the Brazilian Blowout are anyone who has frizzy, damaged or processed hair. We have performed the treatment on every hair type (fine/course/frizzy/curly), as well as hair that has been permed, Japanese straightened and extensions. In doing so, we have found that with proper communication and a well-considered application, everyone can benefit from the Brazilian Blowout smoothing treatment.
WHAT KIND OF LOOK WILL YOU GET FROM THE BRAZILIAN BLOWOUT?
The hair will be left totally frizz-free, shiny, effortlessly manageable and with plenty of body and bounce. There will still be the option to wear hair curly/wavy (depending on the hair type) and the freedom to blow dry hair smooth and straight in a fraction of the time invested prior to receiving the treatment.
CAN I STILL RECEIVE A BRAZILIAN BLOWOUT IF I HAVE HIGHLIGHTS AND/OR COLOR?
Yes, the Brazilian Blowout will actually improve the health of color-treated/highlighted hair by conditioning the hair while sealing the cuticle for enhanced color, reduced frizz and radiant shine.
IS THE BRAZILIAN BLOWOUT GOING TO MAKE MY HAIR STRAIGHT?
If your hair is wavy, the Brazilian Blowout will make your hair appear smooth and healthy. If your hair is very curly, it will minimize frizz while enhancing the appearance of the natural wave/curl. If you have straight, frizzy hair, this treatment will eliminate frizz and promote radiant shine.
HOW LONG DOES THE BRAZILIAN BLOWOUT LAST?
The Brazilian Blowout will last for up to 12 weeks if the Açai After-Care Maintenance product line is used. The Brazilian Blowout is a cumulative treatment, in that the more you receive it, the healthier the hair will be and the longer the result will last.
CAN YOU APPLY THE BRAZILIAN BLOWOUT DIRECTLY ON TOP OF OTHER RELAXERS AND STRENGTHENERS?
Yes. The Brazilian Blowout actually works best on chemically treated hair and helps to improve the condition of the hair by fortifying each strand with essential amino acids.
WILL MY HAIR LOSE VOLUME IF I RECEIVE THE BRAZILIAN BLOWOUT?
No, your hair will not lose volume as a result of receiving the Brazilian Blowout. Your hair will maintain its natural volume and you will still receive great bend and memory when blow-drying and/or using a curling iron.
CAN YOU COLOR YOUR HAIR THE SAME DAY YOU RECEIVE A BRAZILIAN BLOWOUT?
Yes, however, you must color your hair prior to having the Brazilian Blowout smoothing treatment. If you get a Brazilian Blowout and wish to get a color service later, you will need to wait 2 weeks.